Exteriors: Even though every exterior is different the most common process of painting and exterior starts with power washing the home. Killing mold, nailing down any loose boards, scraping any loose paint would be next. Priming areas where it is needed and extensive amount of caulking would follow. Next up would be covering windows, doors, plants, trees, cement, decks, etc. Now we are ready to paint the body. Applying the paint can be done in many different ways the most common way is to spray the paint on the body and then back roll behind the sprayer. Putting the right amount of paint on the home is determined on the type of material that is on the house, and how badly damaged. After painting the body of the house we then paint the trim. Painting the trim is done with brush and roller. The following are a few pictures of the process and the end results: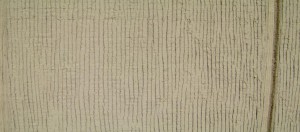 This is a picture of T1-11 siding that is bad shape.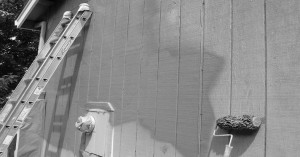 This is a picture of how much paint we put on the first coat. As you can see it is dripping down the walls.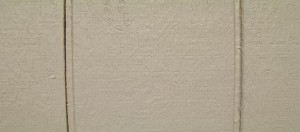 This is the same siding with one coat of new paint on it. As you can tell it looks a lot better but it still has cracks showing that the paint did not fill even though we put on as much paint as we could.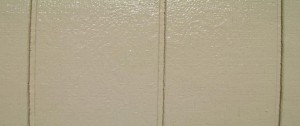 This is a second coat that has filled most of the cracks but has a few showing. At this point the siding is protected and should last a long time but we went even further to eliminate all the cracks.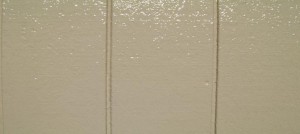 This is the third and final coat. As you can see there is no more crack and the wood is a lot smother. Normaly most houses do not need three coats, one or two should do the trick. In some cases we will do one coat on the hole house and two on the south wall to keep the cot down.
Most people in sonoma county have T1-11 siding but you may have stucco, fiber cement board, redwood or something else. We can paint those too. With stucco we mostly use elastomeric paint and with fiber cement board we mostly spray on that paint to the body with out back rolling to get a thicker build of paint.